SHANGHAI, April 15 (SMM) — This is a roundup of China's weekly metal inventory as of April 15.
Social inventory of aluminum ingots in China decreased from last Thursday
As of April 14, the social stock of aluminum ingots in China's eight major markets stood at 1.06 million tons, down 3,000 tons from last Thursday, but up 2,000 tons from last Thursday. to this Monday. Inventory in Wuxi was up 27,000 tons from last Thursday as arrivals were unaffected while out-of-warehouse shipments were limited by pandemic control measures. Inventory in Nanhai decreased by 12,000 tonnes as local downstream producers stocked up after aluminum prices fell. Cash bounties were reported in Foshan on April 14. Inventory decreased by 12,000 tons in Gongyi, where transportation and cargo pick-up were little affected. The efficiency of truck transport in many regions has declined sharply amid the COVID-19 outbreak. From April 13, Dali City, one of China's major semi-aluminum production areas, required drivers of vehicles not to enter or exit unless they hold the traffic permit. , which will greatly reduce transportation efficiency and increase transportation costs. China is unlikely to reach zero COVID cases in a short period of time, therefore, the transportation problem will continue to interfere with the normal operation of the whole industrial chain.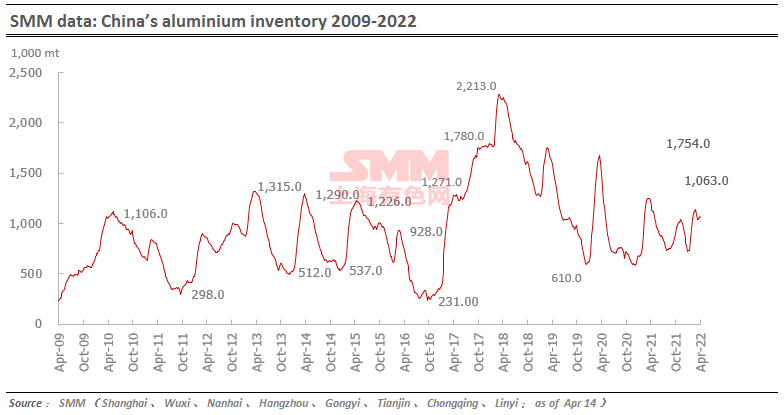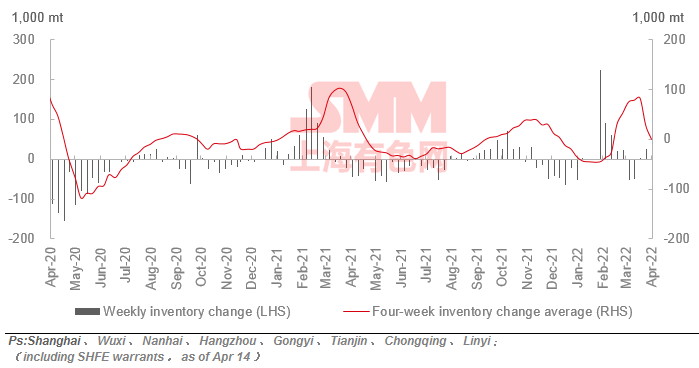 Aluminum Billet Inventory in China Decreased
National stocks of aluminum billets stood at 146,400 tonnes as of April 14, down 8.02% from a week ago. Stock variations in the five major regions are as follows: Foshan (-12,500 mt or 16.47%); Wuxi (+400mt or 1.13%); Changzhou (-500 tons or 3.33%); Huzhou (-2,000 tonnes or 12.5%); Nanchang (+1,800 t or 13.64%). Destocking in Foshan accelerated as downstream producers became more willing to restock after aluminum prices fell to a low of 20,000 yuan/ton. Stocks in eastern China have not changed much as cargo inflows and outflows have been severely disrupted by the pandemic. Inventories in Nanchang continued to grow due to sluggish downstream consumption. Changes in stocks in eastern China will always depend on the evolution of the pandemic. Inventories in Foshan may continue to fall next week.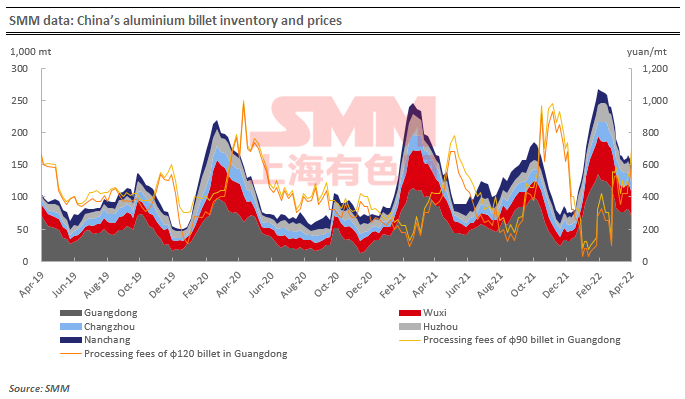 SMM China's copper inventory in main market fell 1,000 tons per week
On Friday April 15, SMM China's copper inventories in major Chinese markets added 4,000 tons from Monday April 11 to 139,300 tons, down a slight 1,000 tons from last Friday. Weekly inventory fell again after a short increase last week. Compared to the national inventory recorded on Monday, local stocks have all increased except for Shanghai during this period.
In detail, inventory in Shanghai fell by 2,200 t to 81,500 t from Monday April 11, added 4,500 t to 45,300 t in Guangdong, increased by 1,500 t to 5,700 t in Jiangsu and climbed from 200 t to 2,000 t in Tianjin.
Since the Ministry of Transport issued a document in the middle of the week, the logistical blockage situation has improved slightly, especially in eastern China which has been strongly affected by the pandemic. According to SMM's understanding as of Wednesday, buyers could pick up goods from warehouses in Shanghai, but a 24-hour negative nucleic acid test is required along with other strict rules. Although buyers can pick up the goods, freight costs have skyrocketed. The normal shipment per ton of copper from Shanghai to Changzhou and Wuxi is 70 yuan originally, compared to about 300 yuan at present. Downstream manufacturers rarely take goods from Shanghai unless they are making urgent purchases. Inventories in Jiangsu and Guangdong regions are seeing an increase due to improved arrivals by rail, and more goods are being shipped to social warehouses as SHFE 2204 contract delivery nears.
Going forward, the social inventory is expected to drop again after transportation returns to normal, when downstream processing companies resume production.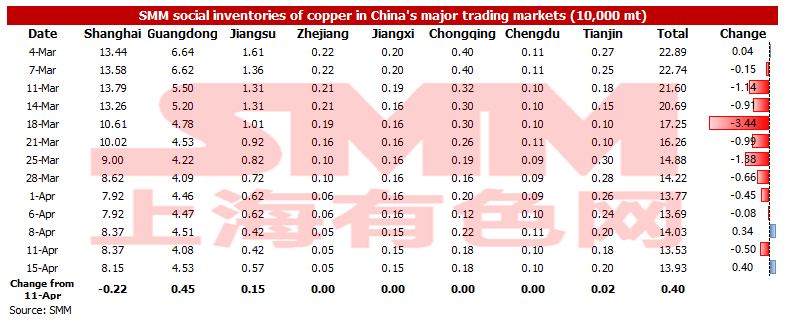 SMM China's zinc inventory in main market increased by 6,100 tons per week
Total zinc ingot inventories in seven major markets in China stood at 284,100 tons as of April 15, up 6,100 tons from April 8, down 3,700 tons from April 11. National stocks have increased. In the Shanghai market, due to unchanged transportation restrictions, delivery costs rose sharply, resulting in little change in inventory in the Shanghai market. On the Guangdong market, arrivals were stable. But the recurring pandemic has reduced the downline's direct delivery, and the downline has picked up goods from warehouses, resulting in increased shipments. Downstream consumption did not improve with increased inventory in the Guangdong market. In Tianjin, some brands arrived amid concentrated deliveries. In the case of low corporate profits in Tianjin, operating rates were not high, and low consumption led to large increases in Tianjin inventories. Stocks in Shanghai, Guangdong and Tianjin increased by 8,300 tons, and stocks in seven Chinese markets increased by 6,100 tons.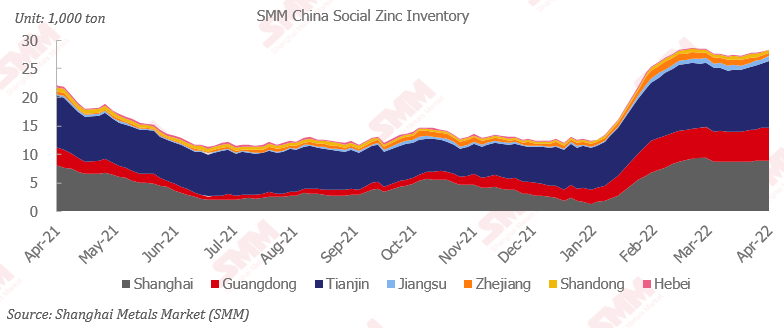 Nickel inventory in Shanghai bonded area almost unchanged this week
This week, the LME nickel maintains a volatile trend. Although the SHFE nickel price trend is strong, imports are still in deficit. Nickel inventory in Shanghai's bonded area was 8,200 tonnes this week. The inventory of nickel briquettes and nickel plates was 2,900 tonnes and 5,300 tonnes respectively, stable compared to last week. Due to the COVID-19 epidemic, the operation in Shanghai's bonded area is stagnating. Currently, LME nickel circulation has not recovered. Additionally, due to weak demand, SHFE nickel prices are under pressure. Therefore, the import will remain at a loss next week.

Domestic bonded zone copper stocks up 3,600 tonnes from Monday
Copper stocks in the national bonded area increased from 3,600 tons on April 8 to 310,100 tons on April 15, according to the SMM survey. Stocks in Shanghai bonded area increased by 3,000 tons to 272,800 tons, and stocks in Guangdong bonded area increased by 600 tons to 37,300 tons. Although the SHFE/LME price ratio has recovered slightly this week, imports are still in deficit and demand for customs declaration imports is sluggish. This week, the operation in the Shanghai bonded area was restored. Licensed truckers can transport goods, and some goods that have already arrived at ports have been transferred to the bonded warehouse. However, Shanghai importers are still working from home and the import trade is difficult to carry out, so the circulation of imported copper will remain low.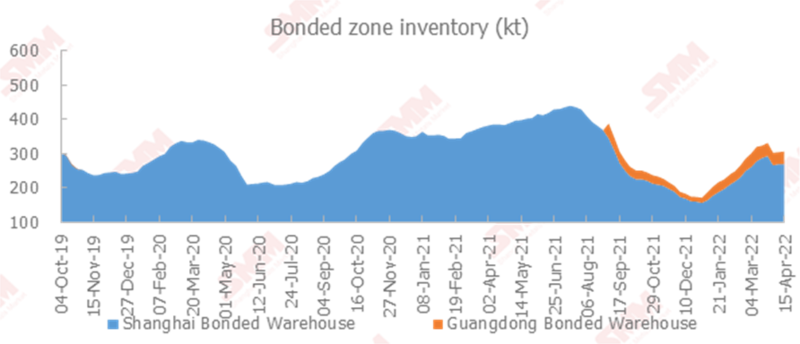 Nickel ore stocks at Chinese ports fell 163,000 wmt
As of April 15, nickel ore inventories in Chinese ports fell by 163,000 wmt from the previous week to 5.574 million wmt. The total Ni content was 1,300 tonnes. Total inventory at seven major ports across China stood at 2.352 million wmt, down 93,000 wmt from the previous week. The retrieval speed slows down. The reasons are as follows. First of all, although the Philippines is at the end of the rainy season, the volume of shipments is still unstable due to bad weather conditions. Also, in the short term, mine shipments are not expected to increase significantly. Second, the demand for nickel ore at the NPI plant is good. High NPI prices stimulate production at NPI mills, which consume a large amount of nickel ore. SMM expects the increase in inventories to appear in May, while in the short term, inventories will slowly decline.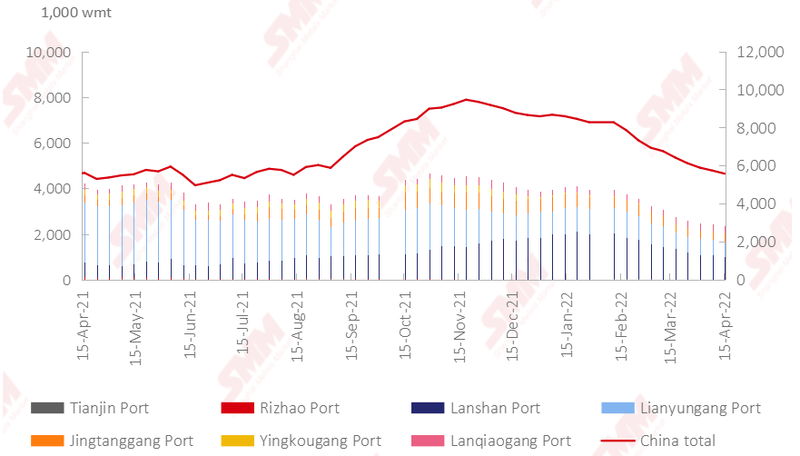 Warning:
The representation and data above is based on market information that SMM believes to be reliable at the time of acquisition as well as the full assessment by SMM's research team, and all information provided in this article are provided for illustrative purposes only. This article does not constitute a direct investment or decision recommendation in any form and clients should act on their own and any decisions made by clients are not the responsibility of SMM.