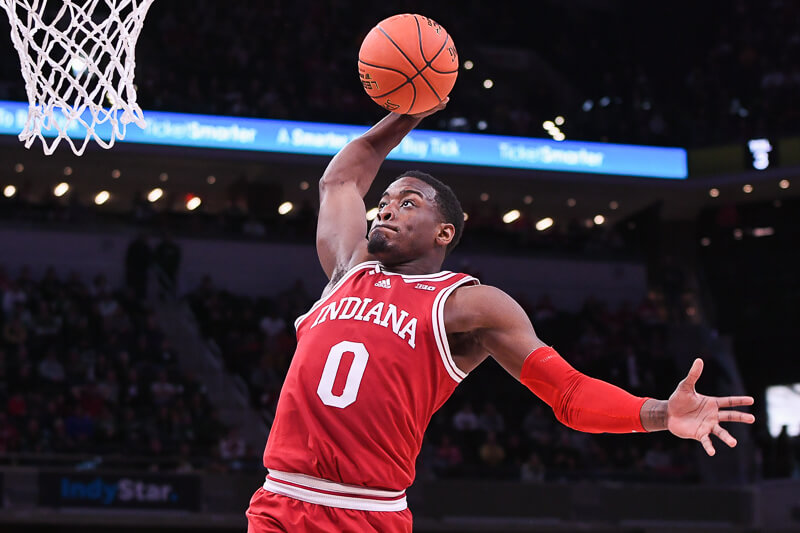 6-Banner Sunday is Inside the Hall's weekly newsletter in partnership with The call to the Assembly. Over 9,000 Indiana fans receive the newsletter each week. In addition to appearing weekly on the site, you can also choose to receive 6-Banner Sunday via email. A form to register by email is available at the bottom of this week's 6-Banner Sunday.
Welcome to another edition of 6-Banner Sunday, a joint production between The call to the Assembly and Inside the room where we highlight the five most essential IU basketball stories from the past week, and take a look at how other IU sports programs are doing.
As the opening of the exhibition is two weeks away, IU basketball had several very big news related to this upcoming season and the future this week. The Series Hoosier Fans Wanted Against Rival Kentucky Rival may be back. League editors picked Indiana to win the conference in the more immediate schedule of the 2022-23 season.
Inside the Hall continued to preview other conference teams in other stories and began a series on IU players. Additionally, Podcast on the Brink and AC Radio had a new show this week, and we'll end as usual with a look at how other Hoosier sports are doing.
Briefly, Inside the Hall had a Q&A with 2024 recruiting target Caleb Williams and his mother.
• IU and Kentucky in talks to resume series
• Indiana picked to win Big Ten by conference media
• IU participates in the Big Ten media day
• Inside the Hall's Big Ten preview and player streak
• Podcast on board and AC Radio
• Hoosier Overview
Banner #1 – IU and Kentucky in talks to take over the series
After Christian Watford's buzzer-beater to upset the Wildcats in 2011, Kentucky and Indiana ended their annual series. The teams met each season from 1969 to 2011. Between 1969 and 1986, matchups were played primarily on campus. However, in 1987 competition moved between Indianapolis and Louisville at neutral venues until 2005. In 2006 the series was moved back to rotating between each team's home gym, ending with the reunion in 2011 After that game, Kentucky coach John Calipari wanted the matchups to return to neutral venues while Indiana wanted on-campus contests to continue. As a result, the series ended at that time, except for two subsequent NCAA Tournament meetings.
Jon Rothstein reports that the annual rivalry could return soon and is in "advanced" talks. The report also indicates that neutral sites and campus games are on the table.
The return of this border rivalry every year would be good news for Hoosier fans who have dreamed of it.
Banner #2 – Indiana Picked to Win Big Ten by Conference Media
While the Big Ten are no longer making an official conference finish order, media covering the league are making it an unofficial one. This group of writers became the last to pick the Hoosiers to win the Big Ten.
This unofficial order of finish ranking is curated by Brendan Quinn of The Athletic and Adam Jardy of The Columbus Dispatch. 28 writers (two from each school) get a vote, and Indiana won 19 of 28 first-place votes, with Illinois being the second highest receiving six. Michigan's Hunter Dickinson beat Trayce Jackson-Davis for Big Ten Player of the Year by one vote.
However, the Cream and Crimson were represented with an individual player as Jalen Hood-Schifino was selected as the conference freshman. Additionally, Jackson-Davis and Xavier Johnson were named to All-Big Ten teams.
Banner #3 – IU Participates in Big Ten Media Day
Although the conference no longer conducts an official poll to find out who will win the league, they still have a media day for reporters to meet coaches and players from each Big Ten school. This year, the event was held in the less central Minneapolis location and therefore attracted fewer writers than in the past.
However, Mike Woodson met with the media anyway, and his availability transcript can be viewed here. Women's basketball coach Teri Moren also spoke; his quotes can be read here.
Banner #4 – Inside the Hall Big Ten Player Series and Preview Preview
Inside the Hall continued its series previewing each conference team while starting a new one taking a detailed look at each player UI.
The conference teams previewed this week were those most likely to challenge the Hoosiers for a conference title in Illinois, Michigan State and Purdue.
In terms of player streak, it started by profiling CJ Gunn and Malik Reneau.
Banner #5 – Edge of the Abyss Podcast and AC Radio
Podcast on the Brink and AC Radio both returned this week.
POTB invited Amanda Foster from Inside the Hall to discuss the upcoming men's and women's basketball season. Meanwhile, AC Radio had three coaches (Tony Adragna, Bob Moats and Brian Tonsoni) to look at the upcoming season from their perspective.
Also, To do work had a new episode featuring the seasons of fellow Big Ten title contenders Iowa and Ohio State. DTW can be followed on Twitter for more information on IU Women's Basketball and when the next show is.
Banner #6 – Hoosier Roundup
• Football had another heartbreaking loss, this time in Maryland. It was despite changing offensive line coaches last week. However, it wasn't a bad weekend for all the Hoosier fans on the gridiron as Tennessee beat Alabama on a last-second field goal. This is relevant to Indiana fans because IU stars Trayce Jackson-Davis and Race Thompson were at the game (Jackson-Davis' brother is a quarterback for the Volunteers) and were seen to participate in the celebration on the pitch afterwards.
• Men's soccer related Rutgers before picking up a huge win on Penn State.
• Volleyball lost a five-set heartbreaker against a Purdue top 10 side despite their most impressive game of the season.
• Women's soccer continued its offensive slump throughout the season being shut out twice more by Rutgers and state of michigan.
• Field hockey tear down in Michigan.
• Men's Golf completed sixth at the Purdue Invitational.
• Cross country competed at the Nuttycombe Invitational.
• Struggle added a volunteer assistant coach to the staff.
Thank you for your continued support of The Assembly Call and Inside the Hall. We'll be back next weekend with another roundup.
Now go feast on a Sunday at 6 banners.
Aaron (Ari) Shifron
Assembly Call Contributor
Filed at: